Peter and the Starcatcher
June 26- June 30
St. James Place, Great Barrington, MA, 01230 United States
Based on the book "Peter and the Starcatchers" by Dave Barry and Ridley Pearson, this play, with a book by Rick Elice and music by Wayne Barker, upends the century old story of how a miserable orphan boy becomes Peter Pan. The show follows the young orphan boy and his mates as they are shipped off from Victorian England to a distant island ruled by the evil King Zarboff. They know nothing of the mysterious trunk in the captain's cabin, which contains a precious, otherworldly cargo. At sea, the boys are discovered by a precocious young girl named Molly, a Starcatcher-in-training who realizes that the trunk's precious cargo is starstuff, a celestial substance so powerful that it must never fall into the wrong hands. When the ship is taken over by pirates – led by the fearsome Black Stache, a villain determined to claim the trunk and its treasure for his own – the journey quickly becomes a thrilling adventure.

by Dave Barry and Ridley Pearson
Directed by Caitlin Teeley
Choreography by Natalie Sala
Music Direction by Jackson Teeley
Fight Choreography by Olivia Wilcox

CAST

Black Stache - Cody Lee Miller
Molly Aster - Caroline Fairweather
Boy/Peter - Corey Bryant
Grempkin/Sanchez/Mack/Fighting Prawn - Christopher-Michael Vecchia
Mrs. Bumbrake/Teacher - Dana M. Harrison
Billie Slank/Hawking Clam/Robyn Falcon Scott - Olivia Willcox
Lord Leonard Aster - Thomas Whaley
Smee - Noah Lewis Bailey
Alf - Harrison Lang
Prentiss - Noah Pott
Ted - Alec Bachman
Thursday, May 2, 2019

St. James Place, Great Barrington, MA, 01230 United States

The Duncans, a well-to-do family living on the Philadelphia Main Line seemingly have everything, that is, until long lost prodigal son, Todd Duncan, returns home and discloses that he has been diagnosed with HIV AIDS. What follows is a sequence of disastrous events leading to the ultimate demise of the Duncan Family.

by Nicky Silver
Directed by Harrison Lang
Featured staged reading at TheatreFest at Saint James Place

CAST

Grace Duncan - Dana Harrison
Arthur Duncan - David Joseph
Emma Duncan - Caitlin Teeley
Todd Duncan - Corey Bryant
Tommy McKorckle - David Bertoldi
Sweeney Todd: The Demon Barber of Fleet Street in Concert!
Sunday, January 20, 2018
The Egremont Barn, 17 Main Road, Great Barrington, MA, 01230
Directed by Harrison Lang
Music Direction by Mike Pacifico
CAST

Sweeney Todd - Matt Passetto
Mrs. Lovette - Caitlin Teeley
Toby Ragg- Jackson Teeley
Anthony Hope- Corey Bryant
Johanna Barker- Mackenzie Norris
Judge Turpin - Steve Hassmer
Beadle Bamford - Cody Lee Miller
The Beggar Woman - Gwendolyn Tunnicliffe
Adolfo Pirelli - Mike Pacifico
Ensemble - Haley Aguero, Taylor Slonaker, Crystal Moore

Wednesday, August 29, 2018
The Egremont Barn, 17 Main Road, Great Barrington, MA, 01230
Conceived, written and composed by Brooklyn playwright Sarah Galante, who has worked with The Playwrights Center, Women's Playwriting Cooperative and Philadelphia Women's Theater Festival. "Baby Can't Speak" follows Tag, a newly sober/queer/scared theater artist and their drag persona, Saint MonicAA. Through cabaret-style songs, audience interaction/intervention, interruptions from a playwright who can't keep her opinions to herself, and the eventual dismantling of a character they've grown to depend on, Tag learns that making art, sober, is really hard.
CAST
Tag/Saint MonicAA - Evan Gallagher-Frace
The Playwright - Sarah Galante
The Musician - Jackson Teeley
August 8-12 2018
The Egremont Barn, 17 Main Street, South Egremont, MA, 01258
Fun Home is a musical told from the perspective of a 43-year-old Alison as she dives deep into her past to tell the story of her father, a volatile, brilliant, one-of-a-kind man whose temperament and secrets defined her family and her life.

Book and lyrics by Lisa Kron
Music by Jeanine Tesori
Directed by Harrison Lang and Caitlin Teeley
Music Direction by Gigi Teeley and Mike Pacifico
Choreography by Natalie Sala
CAST

Alison Bechdel- Caitlin Teeley
Medium Alison- Emma Foley
Young Alison- Mary Shalaby
Bruce Bechdel- Matt Passetto
Helen Bechdel- Francine Ciccarelli
Christian Bechdel- John Ververis
John Bechdel- Ben Shannon
Joan- Olivia Willcox
Roy/Mark/Pete/Bobby Jeremy- Jackson Teeley
June 14-17 2018
St. James Place, Great Barrington, MA, 01230 United States
This original adaptation had its world-premiere workshop in spring, 2016 at Emerson College and will now see it's fully staged world premiere at St. James Place in Great Barrington.
Originally adapted by Corey G Potter, Amanda Rose Wallace, and Jackson Teeley.
Directed by Caitlin and Jackson Teeley
Music Direction by Jackson Teeley
CAST
Prospero- Jolyn Unruh
Miranda- Brianna Nicola
Ariel- Caroline Fairweather
Caliban- Ali Louis Bourzgui
Ferdinand- Aiden Chalfonte
Alonso- Dana M. Harrison
Antonio- David Bertoldi
Sebastian- Connor McNinch
Gonzala- Olivia Willcox
Trinculo- Harrison Lang
Stephano- Cody Lee Miller
Ensemble- Alexandra Keane, Taylor Slonaker, Austin Lombardi and Charles Kerzner
Into the Woods Winter gala
Directed by Caitlin Teeley and Harrison Lang
Music Direction by Mike Pacifico
The team who brought you Spring Awakening at The Egremont Barn present a classic evening of theatre, drinking, food and frivolity with a concert version of Stephen Sondheim's timeless classic, Into the Woods! This evening marks the first step of the exciting process of forming a non-for-profit theatre company that strives to excite and inspire young performers through art and theatre.
CAST
Narrator- Mike Pacifico
Cinderella/ Rapunzel- Caroline Fairweather
Jack/ Lucinda/ The Steward- Ali Louis Bourzgui
Jack's Mother/ Cinderella's Mother/ Granny- Gigi Teeley
Baker- Harrison Lang
Baker's Wife- Kelsea Beck
Witch- Caitlin Teeley
Little Red Riding Hood- Brianna Nicola
Cinderella's Prince/ Mysterious Man/ Florinda- Jackson Teeley
Rapunzel's Prince/ Cinderella's Stepmother/ Milky-White- Cody Lee Miller
The Wolf- Tom Teeley
The Giant (voice)- Sara Keene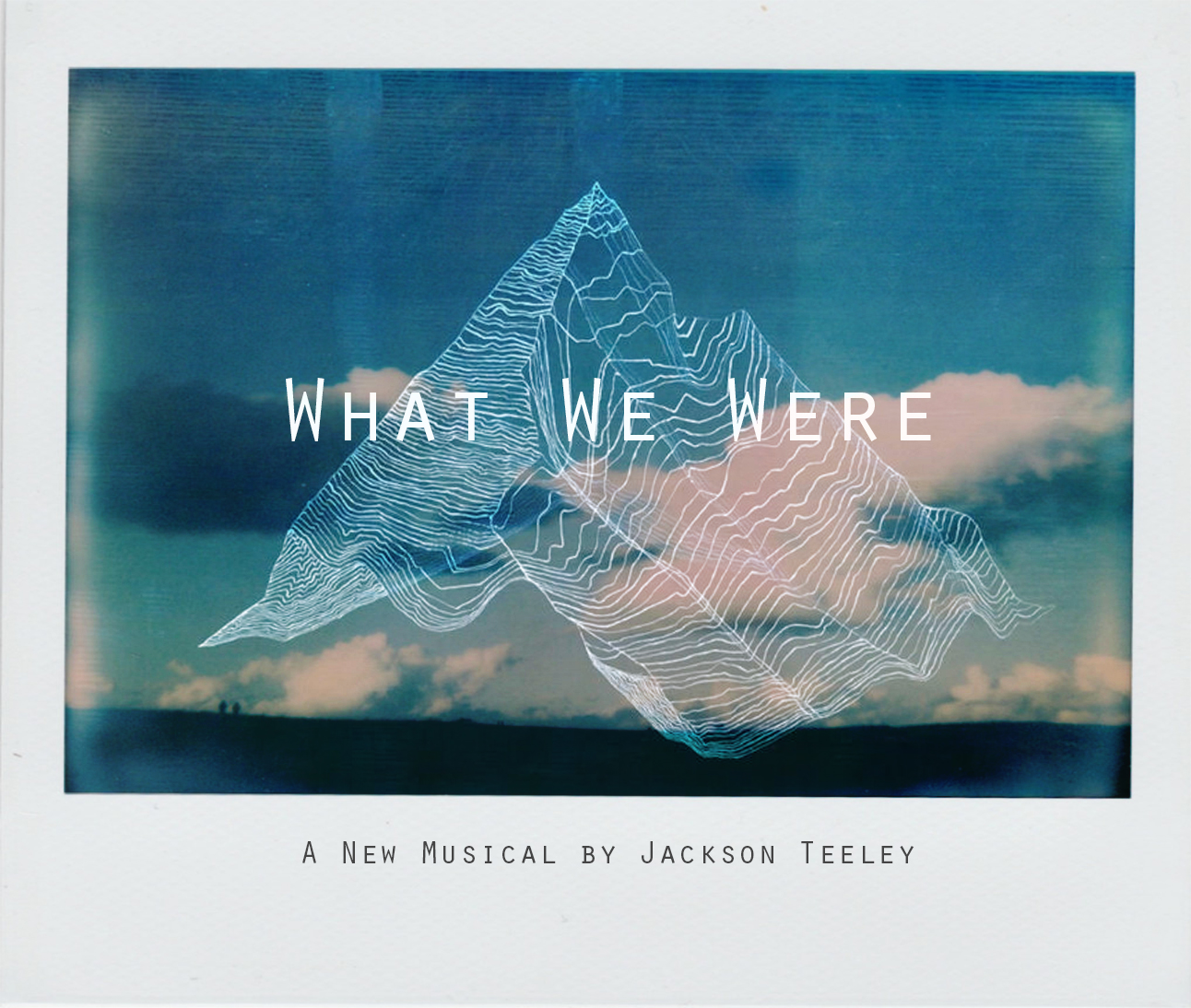 The world premiere stage-workshop production.
What We Were is a stage adaptation of the 2015 short film by the same name created by Jackson Teeley, Corey Potter and Wilder Bunke. This world premiere workshop featured the original three songs from the short film, plus an expanded score with music and lyrics by Jackson Teeley, and an original book by Jackson & Caitlin Teeley. What We Were deals with woven moments from the past and present, as a pair of siblings must learn to let go of their former selves in order to navigate their current situations. With the assistance of old friends and blurred memories, they set out to define what home means once you've left it.
Jackson Teeley is a talent the Times Square Chronicles has called "a welcome new arrival onto the musical theatre scene."
Directed by Jackson Teeley, Caitlin Teeley & Harrison Lang Music Direction by Mike Pacifico
Featured Ali Louis Bourzgui, Brianna Nicola, Caitlin Teeley, Caroline Fairweather, Jackson Teeley, and Joey LaBrasca

Winner of eight Tony Awards®, including Best Musical, Spring Awakening explores the journey from adolescence to adulthood through what Entertainment Weekly called "the most gorgeous Broadway score this decade." With an illuminating book, and poignant lyrics by Steven Sater and score by Duncan Sheik, Spring Awakening is a thrilling blend of morality, sexuality and rock and roll that has been rousing audiences across the nation for years.
Directed by Harrison Lang & Caitlin Teeley
Music Direction by Mike Pacifico and Cindy Gutter
Choreography by Natalie Sala
Fight Direction by Olivia Willcox
CAST
Jackson Teeley as Melchior Gabor
Caroline Fairweather as Wendla Bergmann
Ali Louis Bourzgui as Moritz Stiefel
Caitlin Teeley as Ilse Neumann
Joey LaBrasca as Hänschen Rilow
Diana Quetti as Martha Bessell
Connor McNinch as Ernst Röbel
John Ververis as Georg Zirschnitz
Aiden Chalfonte as Otto Lämmermeier
Julia Murphy as Thea
Brianna Nicola as Anna
Gigi Teeley as the Adult Woman
Monk Schane-Lydon as the Adult Man